Hi! From our kitchen to yours.

Some of the greatest memories I have as a child were hanging around in my Nana's kitchen watching her pull bits and pieces out of her fridge and cupboard and freezer to whip up tasty meals. We lived on a farm next to my grandparents and trips into town were usually a couple of times a month so everyone learned how to cook from scratch and how to make basic ingredients stretch to the next shopping trip. My Nana and Mum taught me the skills of not just being able to feed your family well with what's in the cupboard but also to bring joy and pleasure to mealtimes.
Needless to say I LOVE food and I love it when I can bring joy to those I'm feeding too. Sure, I get my fair share of 'aw not that again' (here's looking at you spag bol) or 'yuck, you know I hate xxxx' but at the end of the day we're all busy and tired and just gotta fill the bellies! I have a cupboard full of beautiful and inspirational cookbooks but most of the time I just throw a bit of this with that and out pops a pretty decent meal. At our place, like you, we sometimes run out of ideas of what to cook for dinner, so we thought it might be helpful to share some quick 'one pot, one pan' meal ideas. Here are some easy ways to use the things you have in your fridge and turning them into yummy meals you and your family can enjoy.
Our rubs are super easy to use - just remember - OIL, RUB, COOK! I've tried to craft as much all natural flavour into every rub blend to save you having to buy loads of different ingredients or slave over long and complicated recipes for everyday dinners. We also freshly grind all our spices, seeds and berries so they really pack an aromatic punch - you'll smell the difference as soon as you open the pack.
Whether you're a seasoned foodie or a no-skills newbie to cooking I guarantee you'll find easy ways to make your food taste great- and I'd love you to share your tips and ideas with me as well to keep us inspired too!
Happy cooking : )

The Rubmaker
Smoky BBQ Baked Drumsticks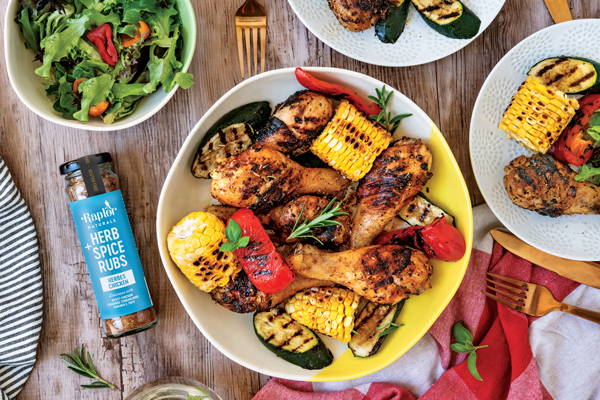 ---
• 1 kg chicken drumsticks
• 2 tablespoons oil
• 2 tablespoons Herbes Chicken seasoning
Vegan Option

Substitute chicken for golden kumara chunks roasted with Herbes Rub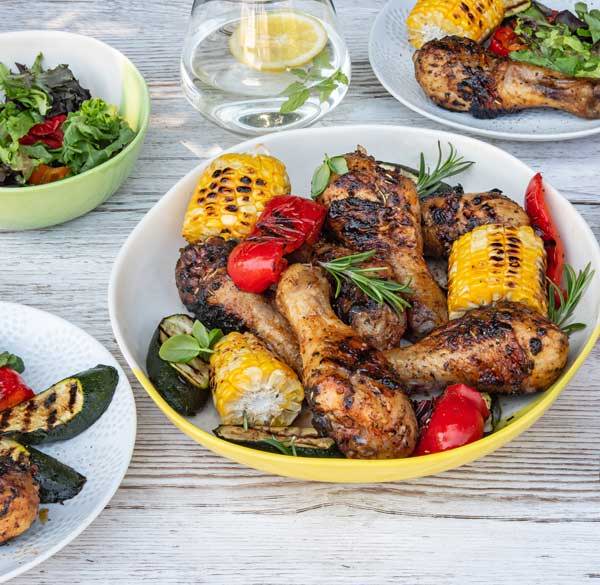 1. Mix together oil and Herbes Chicken seasoning in a large bowl.
2. Add chicken drumsticks and mix to coat well. This can be prepped ahead, covered and refrigerated at this point.
3. Remove chicken from refrigerator 30 minutes before cooking.
4. Grill on a medium heat barbecue for 30 minutes, turning every 10 minutes for even cooking.
5. (Alternatively, you can cook chicken in a pre-heated oven for 40 minutes at 180°C.)
6. Rest for 10 minutes before serving with grilled vegetables or salad.
---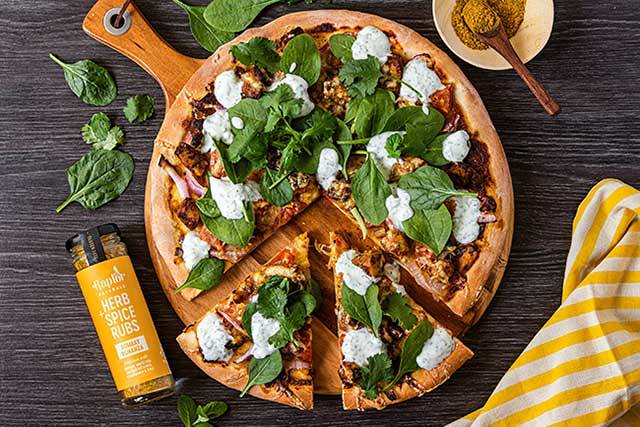 ---
1 tablespoon cooking oil

1 chicken breast half, diced

1 tablespoon Raptor Rubs Bombay Bonanza seasoning

1 large pizza base or 2 flatbreads

2 tablespoons spiced chutney

1/2 a tomato, diced

1/2 a red onion, sliced

1 cup grated cheese

A handful of fresh coriander, chopped

A handful of baby spinach

1/3 cup yogurt

2 tablespoons fresh chopped mint
Vegan Option

Substitute chicken for firm tofu chunks pan fried with Bombay Rub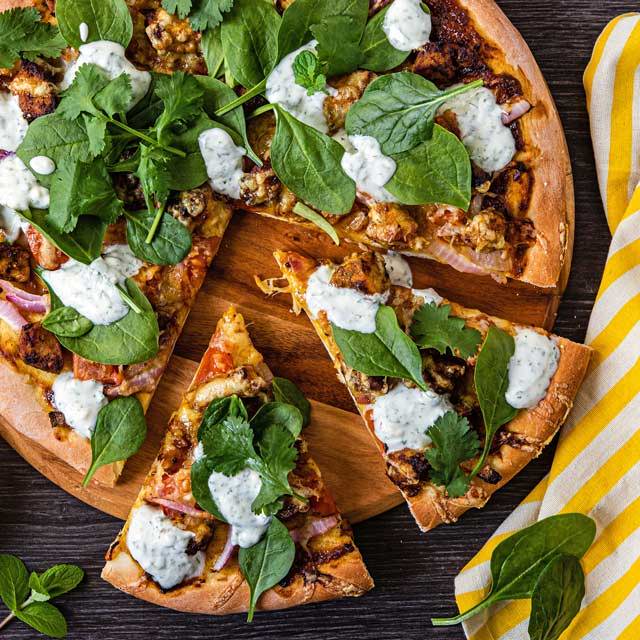 Preheat oven to 200°C.
Heat a frying pan and once hot, add cooking oil. Add chicken and Raptor Rubs Bombay Bonanza seasoning. Fry on medium high heat for 10 minutes, stirring frequently to ensure even cooking. Remove from heat and set aside.
Spread chutney over the pizza base or flatbread. Add the chicken, tomato, onion and cheese.
Bake for 15 minutes at 200°C.
In a small bowl, mix together the yogurt and chopped mint.
Once cooked, remove the pizza from oven, scatter with baby spinach, dot with mint yogurt and garnish with coriander.
---
5 Spice Sweet & Sour Pork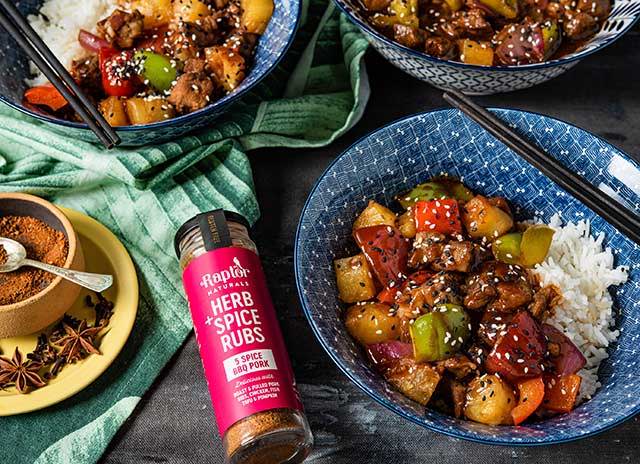 500 grams pork scotch or rump, cut into 3cm pieces

1 tablespoon Raptor Rubs 5 Spice BBQ Pork seasoning

3 tablespoons light soy sauce

1 tablespoon vegetable oil

1 tablespoon chopped fresh ginger

1 red onion, cut into bite size pieces

½ green capsicum, deseeded and cut into bite size pieces

½ red capsicum, deseeded and cut into bite size pieces

⅓ cup tomato ketchup

½ cup rice vinegar

1 tablespoon sesame oil

3 tablespoons soft brown sugar

230g can pineapple chunks in juice

1 teaspoon cornflour dissolved in 1 tablespoon water
To serve: steamed rice and 1 tablespoon sesame seeds
Vegan Option

Substitute pork for firm tofu chunks pan fried in with 5 Spice Rub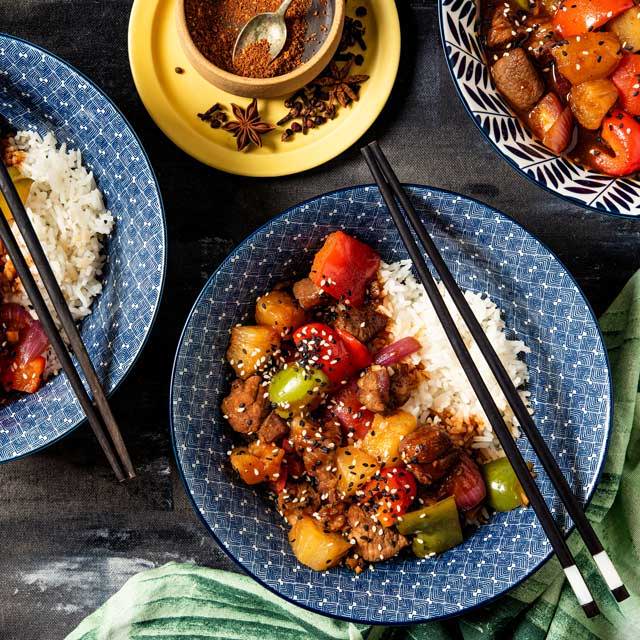 In a bowl, mix together the pork, Raptor Rubs 5 Spice BBQ Pork seasoning and 1 tablespoon of light soy sauce. Sit for 15 minutes while you prep the other ingredients.
Heat 1 tablespoon of vegetable oil in a large pan or wok. Add the pork, ginger and onion and fry for 5-10 minutes until pork is cooked through.
Stir in the capsicum, 2 tablespoons of light soy sauce, ketchup, rice vinegar, sesame oil, soft brown sugar and pineapple chunks along with the pineapple juice. Bring everything to the boil and add the cornflour and water mix. Cook for a few mins until sauce is thickened and everything is well combined.
Sprinkle over the sesame seeds and serve with rice.
---